Planning a trip
May 9, 2017
Furkot is a road trip planner. It does things that you used to do with a road atlas and a bunch of post it notes. Or - more recently - with a spreadsheet and a bunch of websites displaying maps.
Different trips call for different trip planning process. You will find couple of pointers to get you started here. You do not need to follow this process though. Great thing about computers is that they do not mind doing stuff over and over again. So start small, add a few stops, find a lodging or two, add more stops, and then some more lodgings. Continue until everything looks good to you. Furkot is flexible. It will try to work with you.
Start small
Let's assume you know where you want to go; if you don't, checkout the Inspire Me section. And it is also helpful to know when you want to go and how much time you have for your trip. To get things rolling go to Furkot and click on the orange Plan A Trip button. If you already have an account you can go to My Trips screen and click big orange Plus button (plus as in add 1 more trip).
Furkot will try to collect some info to help you along. That includes Start and End points. Those can be cities (from Boston to Orlando), addresses (from 1 Lincoln St., Boston to 15 Main St. Orlando) or names of the places (from Boston to Yellowstone National Park). You can be as specific or as vague as you want - nothing is written in stone and you can always change your mind later.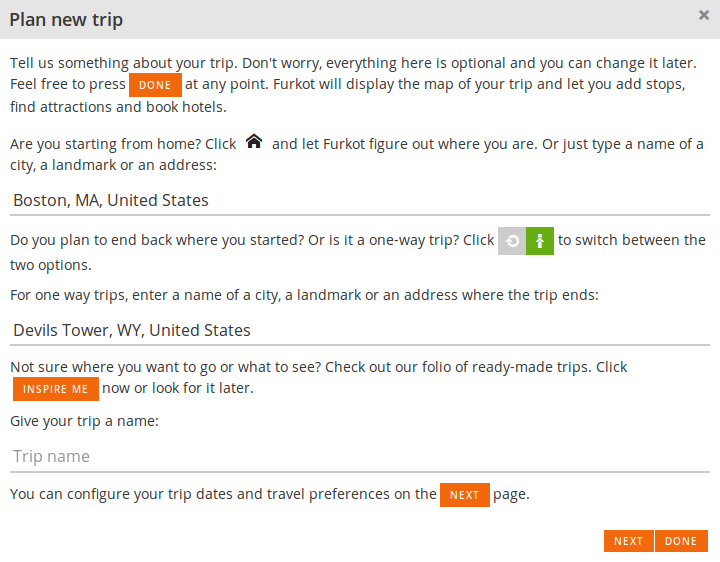 Click Next and enter the dates for your trip. Those do not have to be exact. Unlike other road planners Furkot will let you plan your trip using real dates: which is great since you'll know right away if the trip fits your schedule and whether you are going to visit this special place you always wanted to see on a crowded Sunday afternoon or calm Tuesday morning.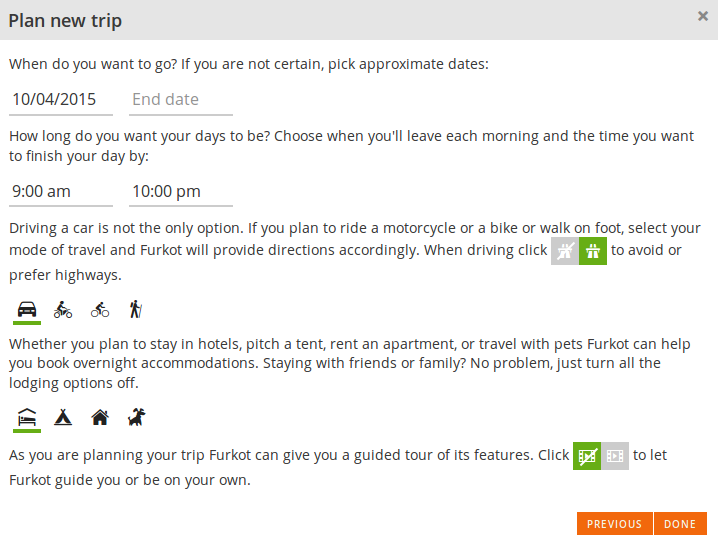 Furkot realizes you rarely want to drive round the clock or visit attractions in the middle of the night. That's why it wants to know something about your driving habits: what time you usually start driving and what time you want to arrive at a hotel or a campsite.
Let's assume you are planning a driving trip but keep in mind that Furkot is just as good to plan motorcycle rides, biking trips, day hikes and city walks.
At this point you can also tell Furkot what kind of accommodation you are planning to use: hotels, private and semi-private houses, B&Bs or campgrounds are the options. Pick the one that you think you'll be using most of the time. You can change it later and use a different type of accommodation on a specific day.
Once you've done all this prep work click Done and see what Furkot can do for you.
First draft
Once you hit Done Furkot plots the route and calculates the time. If you want to start at 9am and drive till 6pm Furkot shows you that it will take at least 3 days to get to Devils Tower from Boston. Trip drawer has some handy stats.
Furkot also found and added hotels to our trip. These are just suggestions added to accommodate the 9am to 6pm driving days. Please note that since we are driving West and crossing the time zones the Furkot accounts for time changes and adjusts arrival times as needed.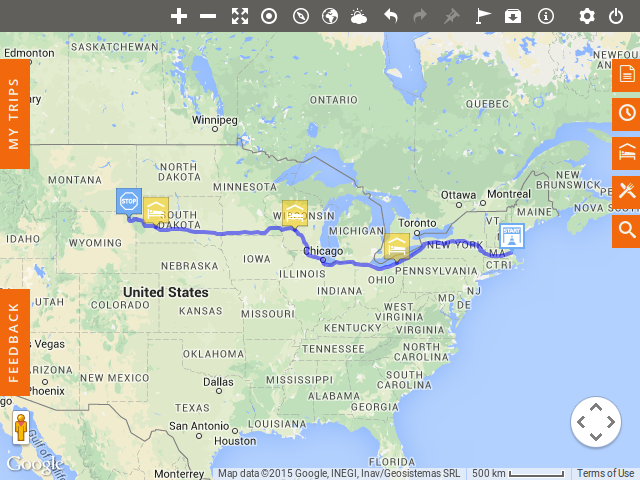 Before doing anything else let's get acquainted with the Furkot map. You can zoom in and zoom out (using your mouse wheel or touchpad scroll function is the fastest way to do that). You can pan by dragging the map area around. If you get lost you can click the Show the entire trip button which will reposition the map.
Every Furkot trip consists of stops and routes connecting the stops. Stops are displayed on the map as colorful markers. Every color has special meaning: the goal is to get all of the markers to be displayed in blue. You can select a marker by clicking on it. Once you do that the Plan drawer opens and you can change the details of the stop: its duration, type, description etc. Stops are connected by routes. You can select them as well. And similarly to stops once you select a route the Plan drawer will open and you'll be able to adjust route parameters: the mode of transportation, road preferences, speed etc.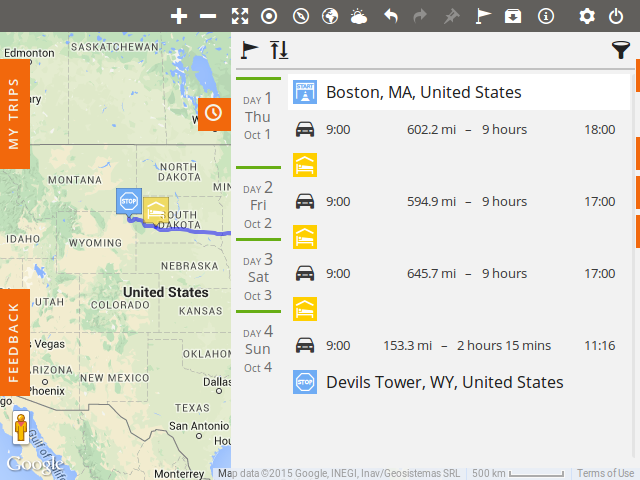 Driving for 3 days straight is probably not what you had in mind. Time to beef up on road trip attractions.
Adding stops
When adding new stops you don't have to follow the order in which you want to visit them. You can add couple of stops in Illinois first and then add a stop in Massachusetts and Furkot will figure out that you don't want to drive to Chicago first and then retrace your steps back to Boston to visit both places. Just keep adding stops and let Furkot figure out the best order to visit them all. If Furkot guesses wrong you can reorder the stops later.
There are couple of ways you can add new stops:
click on the map - this is the easiest and the fastest way to add new stop - click and you'll be presented with the address of the place you are adding, you can modify the name, add some notes if you want and press Save - and then you can see Furkot recalculating your trip

enter the address or a name - in some cases you know exactly the address of the place and locating the places on the map is not what you want to do - for example you aunt Alice lives at 10 E State St. in Milwaukee - click the Add new stop button and start entering the address: Furkot will display a list of places to choose from
After adding a stop Furkot finds the route to it. You'll see that the time of the arrival and departure is automatically calculated for you. By default Furkot will set your duration to one hour (you can change that default setting in the Trip drawer). It's probably too much for the overlook, but might be not enough for a museum or a walk through the city center. You can adjust duration for each stop separately. If you arrive somewhere late afternoon and you set your duration so that departure time passes your configured End of Day time Furkot will automatically add an overnight stop and will suggest you visit that place on the next day of your trip. As usual the automatically added overnight stop is just a reminder. You can change later selecting a different lodging or a private accommodation.
Colors and warnings
Planning a trip is a balancing act: lodgings need to be arranged, schedules kept, attractions visited, flights boarded, crowds avoided. To give you an instant feedback on how all the pieces fit, Furkot uses colors: blue means everything is OK, red represents a potential problem and yellow suggests that there is still some work to be done.
Pay close attention to stops that are displayed in red: click on the stop to see the explanation of the warning. The warnings are Furkot way of notifying you that it cannot meet your needs: the road may be closed or you may need more time to get where you want. The latter is especially useful when you have places on your trip that you have to visit on a specific day and time (concerts, events, meetings, etc.): you can lock the date and time and Furkot will help you plan your trip accordingly.
Check this article for more information about different types of warnings.
Adding points of interest
Visiting random addresses along the way is not our idea of a perfect trip. Sometimes you know about a great place to visit from a newspaper article, a guidebook, a website or from a friend. In such cases you can locate and add places by their name or address as described in the previous section. But if you don't, the Find drawer is there to help you find attractions and points of interest. Check the help article about finding points of interest.
Looking for alternative routes
Once you have most of the stops added you should have a critical look at the route Furkot suggested. If you are going on a road trip and not just trying to cover as much distance as quickly as possible you may want to make Furkot to suggest backroads instead of highways. That can be set for the entire trip in the Trip drawer, but you can also select each route separately and change its highway preferences.
If you have a road in mind that Furkot did not find you can grab a route and drag it to a different place. However if you are looking for a picturesque road a better strategy might be adding some Scenic Byways from the Find drawer.
When you don't want to make a decision about a particular section of the trip, Furkot can help you plan variants: you can skip a stop and decide to visit it later, or you can save a route for a rainy day. You can transfer stops between trips and you can even make a duplicate of the entire trip and plan two options in parallel. Check this article for tips about planning variations of your trip.
Looking for lodging accommodations
Once you added most of the stops and your route looks the way you want it it's time to look for specific lodging accommodations. Furkot has been suggesting hotels, motels or campgrounds for you while you were planning a trip. You may want to look for something better suited to your needs.
To make things easier go to the Plan drawer and use the Filter stops button to hide all the stops that are not overnight lodging stops.
When looking for lodging accommodations in Sleep drawer you can add the lodging of your choice to your trip in a few different ways. You can make it a new stop or you can replace the selected overnight stop with it. You can also save it as a backup plan in case your preferred lodging choice is not available.
Check the help article about finding and booking hotels and campgrounds.
Wrapping up
We just scratched the surface of what Furkot can do for you. Look here for the ever growing list of features. And if you have any suggestions don't hesitate to email us to let us know.