Navigate your trip
February 1, 2019
All time and effort that you invested in planning a trip will pay off when you hit the road. Furkot does not replace a navigation app but it does offer several ways of taking your trip plan with you. You can use Furkot on your phone or tablet, to launch a navigation app. And, if you prefer to navigate with an aid of a GPS device, Furkot provides several options of exporting your trip in a GPS friendly format. Finally, having a paper map with you is not the worst idea. To complement it you can use Furkot to print your trip and include turn-by-turn directions.
Navigation apps
Opening Furkot on a mobile device allows you to quickly see what your next stop is supposed to be or check the address of your hotel even when you have no Internet connection. Navigating your trip is as easy as clicking the navigate button to launch a navigation app on your phone. Use the exact coordinates to navigate precisely to the location of the stop if the navigation app supports it. Fall back to the stop address if the app prefers it but beware that you may end up in a different place if your stop doesn't have a precise address. To facilitate navigation, use the filter button and select the optimize for navigation option to reduce the amount of information displayed for each stop to its address and coordinates only.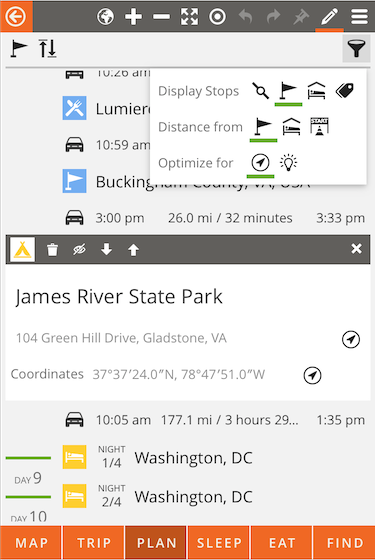 The navigate button next to coordinates or an address opens a navigation app to guide you to the selected stop. Keep in mind that the navigation app may suggest a route different from the one in your trip plan. If you want to navigate along the exact route that you planned and the navigation app supports it, use the button in the route settings.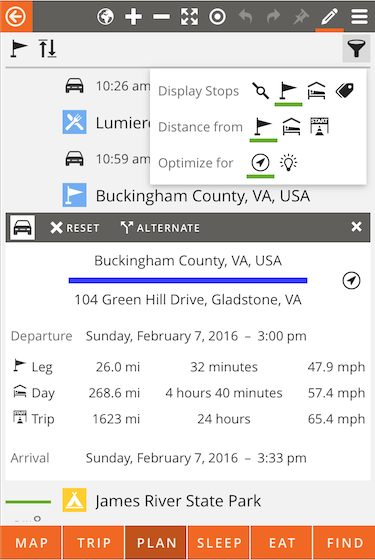 Keep in mind that the navigation app may treat the route you planned in Furkot merely as a suggestion and calculate a different one. To increase your chances of traveling along the exact route you planned, you can export your trip and use an app that supports custom routes in the GPX or KML format.
When optimized for navigation Furkot will also show your current location and heading on the map.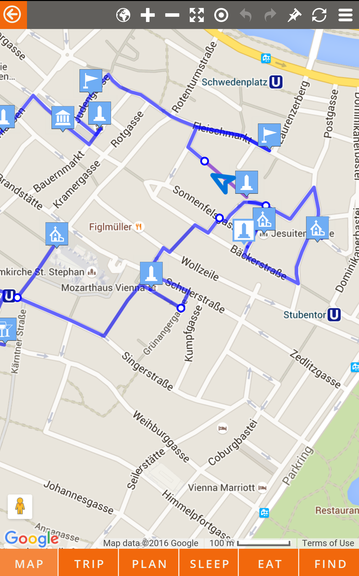 Depending on your mobile device type and installed software the navigate button may immediately redirected you to a navigation app or you may be asked to select the app best suited for navigation. For instance, on an iPhone Furkot will turn you over to Apple Maps while on Android phone you'll see a selection of applications typically including Google Maps.
You can configure which type of app is launched to provide guidance using the Navigation option from the menu.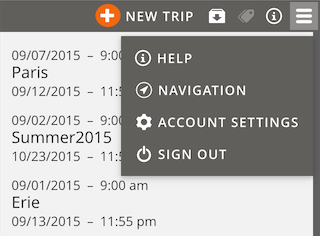 The selected navigation app stands for all the navigation apps that support the same format of navigation data. Even if your preferred app is not listed it may still be supported by Furkot.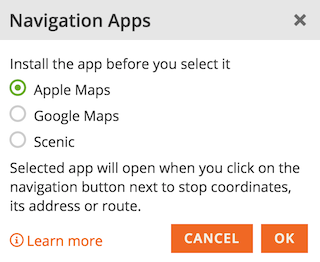 You can test apps you have installed on your phone or tablet by following these instructions for Android or Apple iOS devices.
If you are looking for an app to navigate your trip check out this list.
GPS devices
Furkot supports a wide range of GPS devices by exporting files in variety of formats including the popular GPX format. You can fine tune the content of the exported file. Use options in the Export dialog to generate a GPX file that works best with your specific GPS device.
There is a multitude of GPS devices on the market and we can't possibly test them all. If you want to help, you can test Furkot's support of your GPS device following these instructions and email us to share your results.
If you need instruction on transferring exported file to your GPS device consult its manual or contact its manufacturer support department: Garmin.
If you would like to support Furkot, please consider purchasing your next GPS unit and accessories via one of the following links: Garmin.
Printed directions
If you prefer to rely on paper when traveling, check the option turn-by-turn directions (a feature available exclusively to Furkot Pass holders) when printing your trip. We recognize limitations of a printout and recommend to use it as a backup only in addition to a professionally printed map with enough detail to reroute when things don't go as planned. If you want to support Furkot, please consider purchasing your maps via this link to Amazon.