Attractions and points of interest
July 1, 2019
Internet gives everyone access to wealth of information about every attraction and point of interest imaginable. There are even websites that specialize in collecting, curating and rating various attractions. Furkot indexes various Internet resources to show you what attractions are available along your route. When planing your trip you can use the Sleep , Eat and Find drawers to add points of interest to your itinerary.
Below you will find a list of categories and subcategories that Furkot uses to organize places and attractions. The content comes from websites that Furkot partners with. If you know of any that is not yet on our list make sure to let us know.
Adding attractions to your trip is easy. The Sleep contains all kinds of lodging accommodations, the Eat drawer shows practicalities like restaurants and filling stations, while the Find drawer comprises of the bona-fide attractions making the trip enjoyable and fun. Furkot displays the list of places both in the list and on the map. You can click on the map icon, or you can select the attraction from the list to add it to your trip.
A point of interest in the Find drawer can belong to one of the following broad categories:
| | |
| --- | --- |
| | Museums and man-made structures, |
| | Parks and natural features, |
| | Outdoor sports and activities, |
| | Beach and water recreation, |
| | Scenic byways and backroads, |
| | Unpaved roads and off-road trails, |
| | Events and entertainment, |
| | Everything else, |
| | My other trips, routes and tracks, |
Each category is divided into several subcategories that you can use to further narrow down or expand your search. You can select multiple categories and subcategories. So you can look for jeeping roads and motorcycle rides at the same time.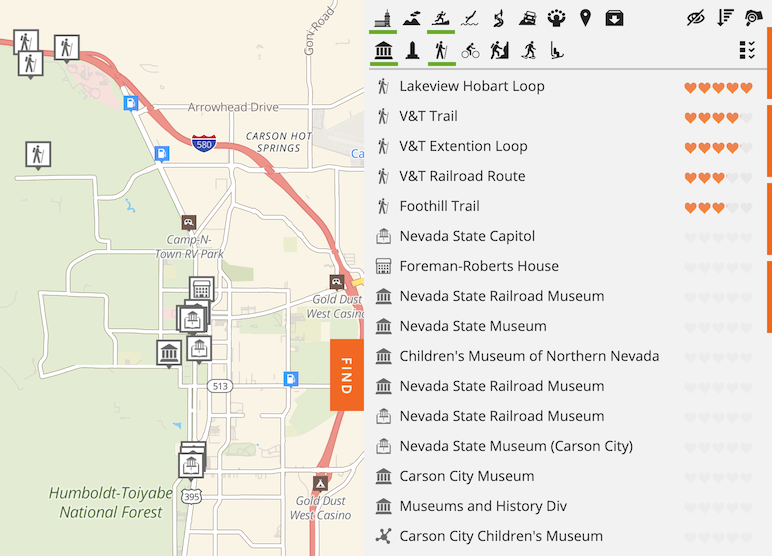 Search and sort
You can tell Furkot to display places over the map, around the selected stop or along the route according to your search preferences. By default closing the drawer hides places but you can pin them to the map to stay visible while you check your trip itinerary or want to see a larger stretch of map.
You can sort the list of places in the drawer alphabetically or by its rating according to your order preference.
Add to trip
Once you find an attraction (hike, museum, byway etc.) that seems interesting, press the Stop button to add it to the trip. Or add it as a skipped stop using the Maybe button. Skipped stops remain on the map, displayed in gray , but are not taken into account when calculating the route. By skipping and re-adding stops you can play with several variants of your trip.
You can also add all displayed points of interest as skipped stops to your trip by using the maybe button at the top of the drawer. Pan and zoom the map to narrow down the places to the area you are interested in first.
Adding points of interest to a trip as skipped stops in bulk is an exclusive benefit offered to Furkot Pass holders.
Point of interest details
For each place and attraction Furkot displays basic information: address, phone number, short description, price, user rating. While not all parts are always available, they all come from websites Furkot partners with. Follow the link to the website providing the data to access more information about the place.
Viewing phone numbers of lodging accommodations and attractions is an exclusive benefit offered to Furkot Pass holders.
Museums and man-made structures
If you are interested in history and architecture, this is a category to check to find museums and historical sites, monuments and landmarks, courtesy of Wikipedia, Atlas Obscura, and Lonely Planet among others.
Parks and natural features
Nature lovers will find plenty here: national and state parks, mountains, and lakes, rivers and hot springs, along with birdwatching and wildlife viewing, provided by Wikipedia and, in the United States, Recreation.gov.
We also include recent and on-going fire incidents here as fire is undoubtedly a natural phenomenon. But we do not advise adding them to your trip to visit; on the contrary, we recommend checking the incidents prior to going on the trip, especially in fire prone areas, to know which places to avoid. Fire incidents are tracked by InciWeb maintained by the National Wildfire Coordinating Group and limited to the area of the United States.
Outdoor sports and activities
Be it hiking, biking, climbing, snowshoeing, or skiing - whatever your outdoor activity Furkot can help you find a suitable trail from the vast repository collected by AllTrails and Hiking Project and recorded with Gaia GPS in addition to over 19000 peaks, rocks and climbing routes from SummitPost, and bike tracks from MTB Project.
Are you after fresh powder? Or maybe shredding corduroy is your thing? Trees or bowls? Skis or snowboard? Regardless of the answer, you can use Furkot to find a discount ski ticket - courtesy of Liftopia. And, if you are looking for inspiration for the winter, take a peek at the week long ski trip to Colorado.
Beach and water recreation
Drive and dive with Furkot. If your car resembles ours, you can't drive on water. But Furkot has hundreds shore diving sites to choose from, and we can route you to the closest dry land point for those spots that do require a boat ride. Our dive site provider list includes ShoreDiving.com and Recreation.gov. Keep your tanks full and don't forget to breathe.
If you prefer to stay on top of the waves, hit one of the surf spots from wannaSurf.
Quiet relaxing day on the beach? No problem - Furkot will show you beaches, swimming sites, and even fishing spots.
Scenic byways and backroads
When traveling for pleasure one almost always prefers to follow scenic roads instead of bland highways. Luckily there are organizations and communities devoted to maintaining collections of interesting byways and backroads.
Federal Highway Administration and USDA Forest Service funds programs that promote scenic roads in the United States to the public. The government agencies may not focus on the end-user convenience or even close the programs altogether but the collected data is by law released into the public domain and Furkot can freely draw on it to show America's Scenic Byways and forest roads on the Motor Vehicle Use Maps.
Motorcyclists rely on communities actively collecting, rating and exchanging information about interesting roads to ride. We picked MotorcycleRoads.com and BestBikingRoads.com to offer a comprehensive selection to riders planning their trips on Furkot.
Whether you drive a car or ride a motorbike, you can publish your trip for the benefit of the Furkot community and see what trips fellow users planned.
Even when you don't have time to take a slower backroad, Furkot draws on Recreation.gov (in United States), Atlas Obscura, Lonely Planet and Foursquare to help you find a scenic overlook or a a picnic site to take a break and admire the view.
Unpaved roads and off-road trails
The more adventurous travelers equipped with a jeep, a dirt bike or an ATV can even take an unpaved road or go off-road entirely courtesy of AllTrails, Gravelmap, and, in United States, Recreation.gov and Motor Vehicle Use Maps.
Events and entertainment
Events and entertainment include spectator sport events, shows and concerts, plays and theaters, film showings and movie theaters, tours and day trips.
Everything else
Not all points of interest fall into a neat category. From curiosities from Atlas Obscura to places recommended by Foursquare to backpacking trips recorded with AllTrails, you'll find odds and ends here.
My other trips, routes and tracks
Sometimes you might not even need Internet to give you the list of attractions. Furkot helps you build, maintain and reuse your own cache of favorites. You can merge together multiple trips planned on Furkot or you can pick stops and routes from your past trips.
You can also upload files directly into the Find drawer either from your computer harddrive or from websites that provide data in one of the file format supported by Furkot.
If you don't find the place in the list of attractions displayed in the Find drawer, you can still add it to the trip using the Add new stop button. The place name or address don't have to be exact: once you start typing Furkot will look for the matching places.