Search for lodging accommodations
June 18, 2018
Somewhere between infinitude and a great number: that's how many accommodations you can find with lodging search in the Sleep drawer. Furkot offers direct access to hotels, motels, hostels, campgrounds, and, if you are tired of anonymous hotels but not quite ready for camping, private rooms and apartments.
After adding all the stops make sure Begin Trip and Finish Trip dates in the Trip drawer reflect your plans. You are now ready to start searching for lodging accommodations. Select the first overnight stop and click on the tab labeled Sleep to open the Sleep drawer.
Furkot will display a list of hotels around the selected stop. Use the green circle on the map to narrow down or expand the list of hotels.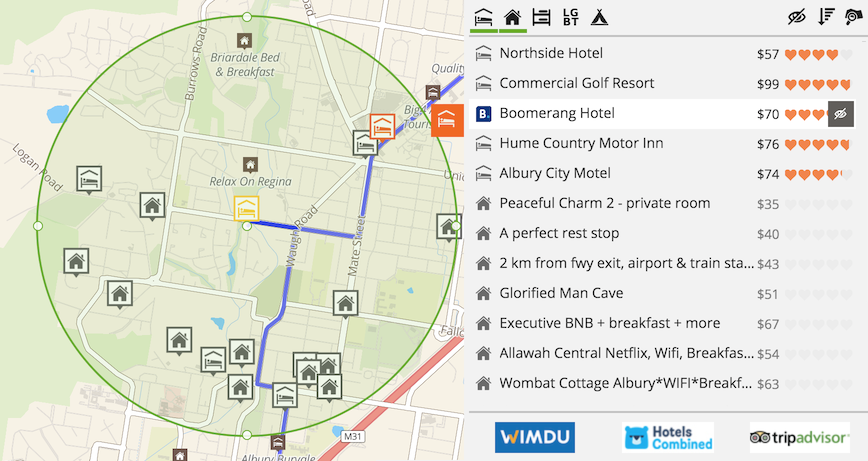 Displaying hotels within a circle is great when you know where you want to spend the night. If you are not sure, click the search options button to explore your choices: over the map, around the selected stop, and along the route.
When showing results of your search, Furkot consults booking services in real time and checks pricing and availability on the day of the selected stop. Accommodations that are available have exact rates displayed in black. The ones that are not available on a given date are not shown. There may be lodgings that don't report real time availability - in that case Furkot may display an average rate in grey color.
When looking at the lodging accommodations in the Sleep drawer you don't have to proceed directly to booking. You can also add them to your trip itinerary and, when you are ready to make reservations, Furkot will pass your trip details to a booking service of your choice.
After selecting a hotel from the list you have an option of adding it to your trip as a new stop or turning an existing overnight stop into a stay in the selected hotel. Using the Stay button makes sense to replace automatically scheduled overnight stop - the one displayed as a semi-transparent yellow hotel pin - with a selected hotel. When searching for hotels in a neighborhood of a place that you want to visit, use the New button to add the selected hotel as a separate stop in the trip. You can also use the Maybe button to add a lodging as a skipped stop and leave a decision to stay there for later.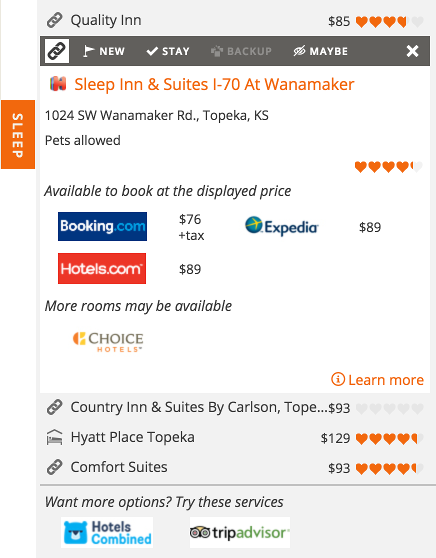 When Furkot receives availability and pricing, the selected accommodation displays the exact rate in black next to each booking service that offers it. If you proceed to reserve a lodging with the exact rate, this is what you are going to pay.
If real time availability information is lacking Furkot may display an average rate in grey color. You'll see the exact amount when you proceed to booking.
Be it , keep using your favorite booking service and let Furkot pre-fill those easy to mistype dates for you.
Check out Hotels, campgrounds and other lodgings for detailed description and helpful tips on securing lodging accommodations for the trip.
We do our best to keep the information about lodging accommodations displayed in the Sleep drawer current and accurate. If you find anything that you would like to correct, check our guidelines to improve places.