Stay with friends and family
March 8, 2016
Staying with friends and family when travelling may be practical, cost effective and fun. Or it may not be - we are not going to weigh in on that particular debate. But while we don't offer advice on how to persuade your friends and family to have you over, we would like to show you how to setup your trip for that lodging preference.
When you start planning your trip, the second page of the New Trip wizard (and the import dialog) offers you the set of lodging preferences. If you are planning to stay solely with your friends and family - or sleep in your car for that matter, we don't judge - just turn all the options off. And if you change your mind later, you can change your lodging preferences in the Trip drawer.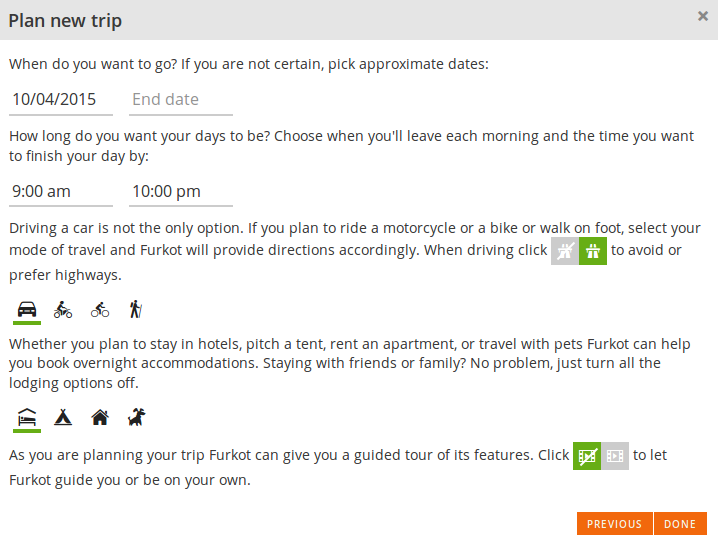 Even when you don't want to rely on Furkot's suggestions you can still view the hotels, campgrounds and other lodging choices in the Sleep drawer if only to check how much money your friends and family are saving you. Or to have a plan B just in case.
Your lodging preferences determine the suggestions that Furkot makes when automatically scheduling overnight stops. If you deselect all lodging options to indicate that you are staying with friends and family Furkot won't make any suggestions. It will still divide your trip into days placing overnight stops according to your Start a Day and End a Day times and Travel Time and daily Mileage limits.
In addition to turning off Furkot lodging suggestions you can disable the automatic scheduling of overnight stops as well: set the Start a Day and End a Day settings to the same time, clear Travel Time and daily Mileage limits and Furkot will know that you prefer to drive round the clock (or handle lodging entirely on your own). You can turn off the automatic scheduling of overnight stops either for the entire trip or for selected days.
We realize that not every trip requires a commercial lodging and thus we support turning off all the options related to booking. We hope that when you plan a trip for which you do want to book a lodging you'll return the favor and use Furkot to secure the reservation. Without the funds that lodging reservations generate we wouldn't be able to develop Furkot and offer its rich set of trip planning features.