Synchronize
November 10, 2015
In addition to importing and exporting your trip data you can synchronize a trip that you plan at Furkot with other application. Unlike import and export, synchronization is performed automatically once you connected the other application to your Furkot account.
Every time a trip is opened, Furkot will check the changes and reconcile differences between your trip plan on Furkot and your trip data kept with the other application. You can also perform the check for changes and reconciliation anytime you want: press the sync button in the Trip drawer.
TripIt ¶
Furkot lets you synchronize your trip plan with booking confirmations from TripIt, online travel itinerary organizer. Assuming you used your TripIt credentials when signing into Furkot or connected your TripIt account to Furkot, Furkot will check your booking confirmations on TripIt that fall within dates of your Furkot trip plan.
If Furkot finds a matching stop it will synchronize it by pulling its details from TripIt itinerary. If it doesn't find a stop that corresponds to a booking confirmation, Furkot will suggest adding one automatically. Your TripIt plan is synchronized every time you view your trip on Furkot, and you can run the matching process anytime you want: press the sync button in the Trip drawer.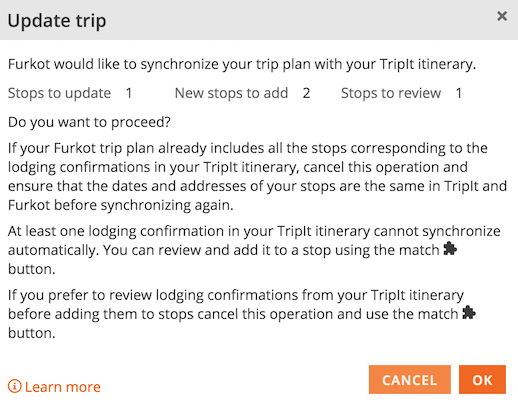 Sometimes Furkot may not be able to reconcile differences automatically: you can review the changes and accept or reject them using the match button in the Plan drawer. If your trip already contains an overnight lodging stop that you have a booking confirmation for in your TripIt itinerary, you can select it from a list displayed when you click the match button for this stop. If there is no such stop in your trip plan yet, you can add a new one and select a booking confirmation for it before saving.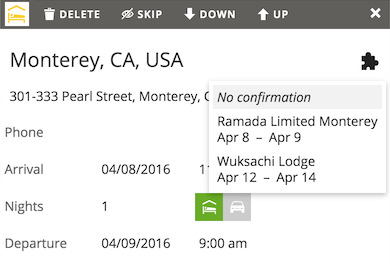 When looking at a synchronized stop in the Plan drawer, you can click on a small TripIt button to view details of the reservation for this stop on TripIt.