8.41.0
More control over which routes are selected: you can tell Furkot to avoid ferries and unpaved roads. If you want Furkot will warn you about the toll roads or unpaved roads that part of your itinerary. Curvy roads can be prefered if you are planning motorcycle trip.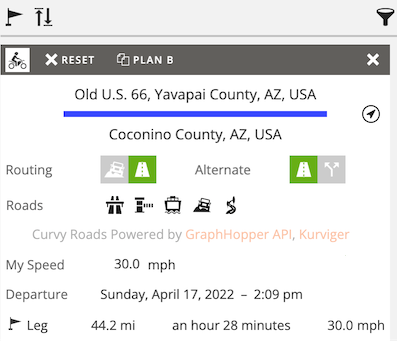 8.39.0
Furkot has a new toggle to facilitate switching to non-stop travel. You can flip it for the entire trip or a specific day. Furkot is not going to add automatic overnight stops when non-stop travel is selected.
8.36.0
Various export improvements added: you can now perform exports in on-line mode and - if your browser supports it - Furkot will ask which folder should your exported file end up in.
8.34.0
You can now take a ferry cross the Mercy 🎵 - or some other body of waters - ⛴️ ferry travel mode is here.
8.31.0
Against our better judgement 😉 fast food now has its own dedicated button in the EAT drawer.
8.29.0
Planning roadtrip in your electric vehicle ? Tell Furkot which connector you need and it will help you to find charging stations along the route.